Our journey to Amani Children's Home for Street Children began months before we set foot on the continent of Africa. If we weren't coming to Tanzania to do service work, I wanted to at least bring some "things" from home to children who needed those "things." After way too much time researching which travel book to buy and then settling on the British Bradt Tanzania Safari Guide, I had my answer on page 86, "www.stuffyourrucksack.com is a website…which enables travelers to give direct help to small charities, schools, or other organizations in the country they are visiting. …The website describes organizations that need your help and lists the items they most need." I liked this part best, "Check what's needed in Tanzania, contact the organization to say you are coming and bring not only much-needed goods but an extra dimension to your travels and the knowledge that in a small way you have made a difference."
I found on the Tanzania list the Amani Children's Home located between Arusha and Moshi. Perfect
On their website was a 4-page list of items they requested of visitors to Amani. I emailed Amani to ask if any of the hundred or so items were more important than others. Salma Khatibu, Communications Officer, emailed back that everything on the list was a priority and that she was looking forward to our visit in February. She included directions and her phone number. As a family, we picked Legos, as we had access at Sacagawea Middle School in Bozeman, Montana to not just hundreds of Legos, but thousands. We also sourced soccer and volleyballs, air pumps and pins, dry erase markers and white board wash. One duffel bag was designated exclusively for Amani.
The Amani duffel visited Los Angeles and then Istanbul, sat barely noticable under the Zanzibar bed that doubled as a couch in the apartment we first called home in Arusha. In our new home in Kimemo, we hid it away in one of our many closets.
An email arrived from Salma. When are you coming? She hadn't forgotten us and certainly wasn't going to let us off the hook. I emailed her back. Could we visit on a weekend, on a Sunday? The girls are in school now at ISM, Arusha Monday through Friday. Anytime after 1:00, just let me know which day, she responded. Weekends went by. Another email from Salma. Late in the day last Friday I confirmed with Alex, Saturday is the International Fair at school, Sunday to Amani. Are we good? Yes. I let Salma know.
Sunday morning we pull out the map. Goal — lunch in Moshi, visit to Amani, Rivertrees for pizza and a swim.   Sounds lovely, except that Amani is really practically in Moshi and Moshi is at least 2 hours from our house. Nix lunch in Moshi, pack peanut butter and jelly sandwiches, throw in a few Isagenix bars. And, sorry kids, we may not have time for a swim but like every day, throw in the bathing suits and towels — just in case.
Three police stops later[1], including one for speeding (that's a story for www.AWritersSpace.com/travel-shorts) we circle the first roundabout in Moshi with plenty of time for lunch.
Snafu, I have left the Bradt book at home as I had erased from my mind the possibility of lunch in Moshi. With no maps or restaurant suggestions we duck into the first touristy restaurant we see, the Kiliminjaro Union Coffee Café. Top notch, icey cold, perfectly sweetened iced coffee, mediocre food.
From the verandah, Alex spies what he thinks is the Tanzanian-flag, wool, okay most likely acrylic, hat he has been on the hunt for. He alights from his seat to talk to the vendor. I pay the check as Alex and Layla are now on a wild goose chase with the vendor to find such a hat. All three of them return and Anna and I are introduced to Isaac who would like to take us to the Spiritual Tree near the train station. We all hop in the car; Isaac in the front with Alex, I squeeze in the back with the girls. In Isaac's broken English, he tells a story of the Germans rounding up people at the Spiritual Tree to build the railroad and shooting anyone who didn't agree to work. We swing around the Clock Tower roundabout, the heart of town, and drive a few blocks to the dilapidated train station. It's a little too quiet here to safely leave the car so we beg off to Isaac that we have a meeting at 1:30 and cannot be late. We drop him back at his shop and head back down the road 3.2 kilometers to Amani.[2]
We turn left past a sign for Amani down a narrow dirt road and through a neighborhood of tall flowering trees, gardens and large stucco homes. After a kilometer we see on the right a large ochre-colored building, as Salma described it, with a green roof on the right-hand side of the road. You can't miss it, she wrote.
The askari (Swahili for guard) opens the gate for us and a young man in a white shirt and khakis walks down the entrance stairs to greet us. His name is Romano. His bright smile shows off his very white teeth. We warm to him immediately.
Romano briefs us on the history of Amani as we sit on the front verandah where we are cooled by the breeze. The temperatures in Moshi are generally a few degrees warmer than Arusha and today it is approaching 90 degrees Fahrenheit.
Amani, the word means peace, was founded in 2001, in Moshi in a building located in the heart of town. It soon outgrew the space and with donations from people from around the world Amani was able to build this home which sleeps up to 90 kids. Amani's mission is to reduce the number of children living on the streets of Tanzania and provide them with long-term care, such as healthy nutrition, good medical care, education and love. Amani's goal is to reunite children with relatives whenever possible and to then equip their families with the tools they need to be self-sustainable. Amani is not an orphanage. Currently there are 71 children here but there are 300 children around the country who are part of Amani, either away at school or reunited with family.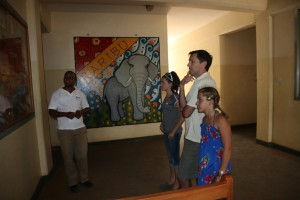 We hear a car pull up to the gate. Salma! Romano exclaims with an even brighter smile. Salma is tall and wears a long summer dress. Her smile is wide and she is clearly as chuffed to meet us as we are to meet her. She lets us know we are in good hands with Romano and leaves us, for now.
Our tour of the single large building and the grounds astounds us. There are multiple avenues for education, Romano explains as we sit at children's desks in one of the classrooms, public education, where the children who are working at grade level can attend the local public school, alternative school at Amani for those children who are not working at grade-level. All of these kids have been living on the street for some period of time and so many are not at grade-level. Salma has rejoined us and explains that in Tanzania kids are taught in Swahili. English is one subject until grade 5. In secondary school it switches. The kids are taught in English and Swahili is only one subject. At this point, obviously, many kids are not capable of learning all their subjects in English and therefore fail out of the system. These children and others who choose, may go on to vocational schools. Amani also offers children this vocational alternative.
Salma explains that there is a movement in Tanzania to continue with Swahili in public secondary school until high school. I ponder whether this is the correct solution or is it to have more and higher quality English instruction in the primary schools so that kids are more equipped for secondary school. I raised this question to Anna's math teacher just the day before at the International Fair. Mr. Kibye is from Kenya and he is of the mind that English must be a priority for primary students because East Africa is an "English economy." And, based on all we have seen, he is right. All business here beyond the street market level is conducted in English.
We tour the cafeteria where many of the kids are watching a movie on an older 19-inch television screen. Here the kids eat three meals a day, seven days a week. We view the laundry area which is a round, concrete structure with basins molded therein where each child washes his or her own clothes. We meet Daudi, 16 years old and autistic. He acknowledges our hellos. Romano explains that he has been at Amani since he was three and has an aide who works with him exclusively. We pass by a wood shop. All the furniture at Amani is made here by a carpenter and kids who are interested in learning carpentry. This is part of the vocational training offered at Amani.
We tour the boys dormitory filled with bunk beds covered by mosquito nets, each with a number matching its mattress, sheets, and blankets. Each boy is responsible for the cleanliness of his bed. There is a locker room where the boys store clean clothes and shoes; each locker is shared by three boys.
The entire home is immaculate.
We stroll across the football field to the chicken coop. This is a new addition. Animal care and egg collection are now also a part of the children's vocational training.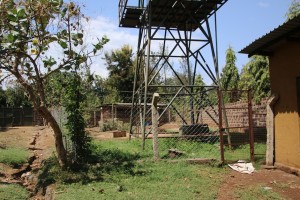 The movie has finished in the cafeteria and the kids are now excited to show off for us their acrobatic skills. They are out on the grass dressed in animal print tops and shorts and some are under the trees poised to drum for the show. Salma explains that a child who excels in acrobatics has "many opportunities" and there are "stars" from Amani who have gone as far away as Florida to compete. I have taken few pictures for most of the visit as I have felt uncomfortable photographing inside these children's home. But now we were outside and the show is beginning. Here are some of those photos. As an aside, girls in primary school keep their hair as short as boys do. Some of the children in the photos are girls.
We left the well-traveled duffel in the office and then hugged both Salma and Romano goodbye, first the right cheek, then the left. I snapped a picture of our hosts waving goodbye. Every time I look at it, I smile. We talked all the way to Rivertrees about how really touched we were by the children, Salma and Romano. We were glad that we had made the long drive to Moshi. Just like the Bradt travel book says, Amani had brought "an extra dimension to [our] travels and the knowledge that in a small way [we] have made a difference." Now for a cooling swim.
[1] BTW the police in Tanzania do not carry guns.
[2] I still haven't been able to confirm the existence of the Spiritual Tree. I have confirmed other stories of German brutality during their colonization of Africa.
 ***
After having no idea what to expect and then seeing up close, healthy, happy children with loving care givers, we all wanted to share Amani with all of you.
We hope you will visit their website www.amanikids.org and become a Friend of Amani by contacting Diane Morrison (their U.S. liaison) at foa.us@amanikids.org. There are varied levels of giving, Zebra, Giraffe, Rhino and Lion. Please give for a child at Amani Children's Home.
In addition, please sign up here for Amazon Smile http://www.amanikids.org/news/20140408124623