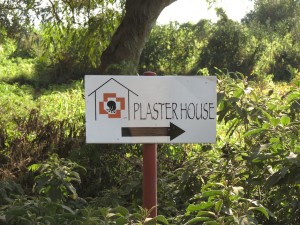 It's dreary outside this morning. No outline of the mountain at all. And fairly dark for 6:30 a.m. I awoke before dawn and had the rare chance to lie in bed and listen to the birds as they too awoke. Only a few bird songs. Winter is curious here. All slows down. Fewer birds. Fewer people out and about. All hunker down even though the low at night is a mere fifty degrees. Perhaps all bodies need a season of rest, no matter the temperature.
We are winding down our second week at Plaster House and have our eyes on the calendar now. Only two weeks left here in Tanzania and there is still so much we want to do and people we would like to see "just one more time." Time is fleeting.  But it is oh so full.
Our time at Plaster House has been full and rich. So much so that I will surely need time to digest these experiences.  What I know now? That working with children means being present and aware each moment, a yoga practice. And that working with children also means giving. Giving of ourselves each and every moment we are there. But the gift we bring of ourselves every day does not match the gift the children present to us each day. The gift of joy and magic and smiles and song and play. 
Kadogo's smile so wide; the small circles cut into her cheeks by her tribe laugh along with her eyes. It's easy for me to forget that both her legs and feet are casted, her feet shaped like a ballerina on toe shoes. Everyday she kicks and runs, passing the football or getting beneath the volleyball for one more volley.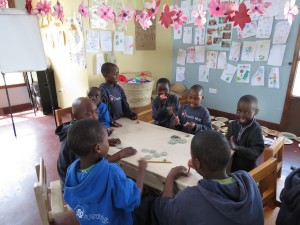 Kadogo middle, Namayani to her right.
Charles's laugh. I hear him even before I see him. He doesn't talk – not English and not Swahili; I don't know why. But he laughs and laughs and laughs. We kick the ball back and forth. It doesn't seem to matter to him if he kicks with his healthy foot or his foot that is turned to a ninety-degree angle to his shin and tucked into a lime-green croc. I can't help but smile and laugh along with him.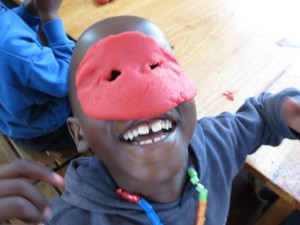 Charles
And little Namayani, six years old. Her brilliant eyes reflect a stunning intelligence. She is a tiny girl burned from her chin to her knees. She is a shining star in my small English class. Each day she uses her more mobile left hand to place her pencil into her severely scarred right hand to write her name on her nametag. She uses multiple color pens to decorate its edges with swirls and dots.
Namayani
Every day at Plaster House is joy-filled. And yet each day is different. There are different moods, different children. Some of the children are new, some are at pre-op appointments, some are in surgery, some have gone home. Whatever the vibe when we arrive, Anna and I join. Some mornings the children's faces light up with recognition and anticipation of a morning of fun football, or "volleyball" or just tossing the ball back and forth. Someone grabs a ball and the play begins.
Other mornings, the joy is subdued and I am grateful for a simple head nod, which I return with a smile. I take a seat on a concrete bench along side some of my new friends and say good morning, sometimes in English, sometimes in Swahili, habari za asabuhi. Nzuri they say. I am fine. Eventually, Joshua will wheel over in his wheel chair, take my hand, spin my Om ring and touch my skin. I may remember a name or two or three, or ask again, jina laku nani? They giggle and whisper a name I can barely hear and struggle to pronounce. Amina, Gaspar, Joseph and Joshua are more simple. Selestin, Shamimu, Zawadhi, a little more difficult for my western synapses.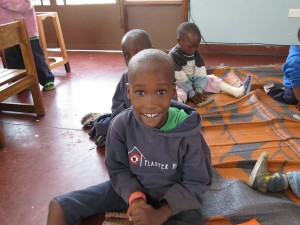 Joshua (pronounced Yoshua)
Even on the slow days, the energy begins to grow. A ball lands in my arms. A game of catch begins. A circle of five, six, seven or eight forms. Namimi, namimi, they yell. And I toss the ball. Joyful smiles and giggles surround me.
And this is our morning. For an hour or so we throw, we kick, we sit and we talk. Anna and I introduced 4-square and hopscotch but neither has taken hold. Free-form ball play is most enjoyed by most. And yet some days, though rare, out come the board games.  A rousing game of checkers on a homemade checker board lures tens of onlookers. The checkers are large legos – a king, two stacked atop one another. And, we do have two boards of Shoots and Ladders but just this past week the one die we had has been lost. I haven't been able to track down a game store in Arusha. It's unlikely that there is one.
"Tea Time," Chausiku says in clear English as she takes the ball and places it with the others in the woven basket. I glance at my watch it's 10:30 a.m., 4:30 a.m. Swahili time (four hours since sunrise at 6 a.m.). I hang out on the bench with the kids, sometimes pulling out my Swahili books eliciting help from the experts. They giggle, grab my pen and write out the Swahili word for me; Swahili for "to say," "to write," "to finish up" – all words I will need to teach my English class which will begin at 11 or 5, depending on if you're wearing my watch or no watch.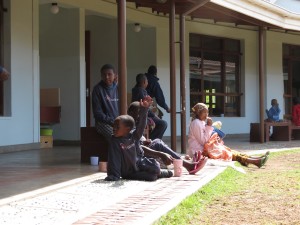 Chillin'
There are currently 95 children at Plaster House from newborn to 19 years of age. Learn what you can do to be a part of Plaster House at www.theplasterhouse.org
Photos by Anna Eby
More photos in www.AWritersSpace.com/gallery