Self-safari to Arusha National Park? In the Rav 4? It's only 45 minutes or so down the road. I think we can do this. Okay, let's do it.
We head out of our "manor house," I like to call it, around 9:15 on Monday morning (four-day weekend at the new school). We are well-stocked, picnic with every piece of possible picnic food in our fridge and pantry, salami, gouda cheese, two different kids of "crisps" aka chips, chopped tomatoes, apples, pineapple, crackers, cookies, a loaf of bread, and the egg salad we have made with "mayonnaise" that tastes a little too much like Miracle Whip and a decent Dijon to spice it up, a five gallon jug of drinking water, four pairs of binoculars, two cameras and two cell phones.
We have a detailed park map which has identifiers for birds, mammals and flora that we might see. Excited and hopeful, we wave goodbye to the askari (guard), Irispa, at the gate, turn left to the "top road," right to the east and we're off. We have been this way before. Just yesterday we went to Rivertrees Lodge on a tip from a fellow traveler on our Serengeti safari. Fabulous pool, really good food, monkeys in the trees and expats welcome. We were not disappointed. If today works out as planned, we will be back at Rivertrees by four in time for dinner and a swim.
A day of many firsts starts with paying our own park fees at the gate. Alex and I alight from the car excited to check out the inside of a park gate office. Joshua had always done this part of the safari when we travelled with Wayo Safaris. Anna and Layla wait in the car happy to be listening to the music on Anna's ipod. Everyone is musically satisified now that Margaret at Shilashi Car Rental has replaced the stereo with one that has an auxillary input. (Remind me to write about Margaret another time, her hugs hello, her smile, going to her house, her gifts.)
We take a look at the sign outside the office explaining all the fees, 15 years and older and younger, car fees, expat fees. When we enter, we notice a sign for expats that you must show your work permit in order to get the expat break on the fees, so much for getting in on the cheap. We wait behind a group of European twenty-somethings who look dressed for the three-day Mt. Meru climb. Their PIN on their credit card does not appear to be working. They step out of line and I over hear their dilemma. They explain to their guides that they had been robbed in Dar Es Salaam but had gotten their credit cards back after they had withdrawn all their cash and given it to the thieves. Now their PIN is not working. I learn that they are medical students volunteering in Dar for a month and have come for a break to climb Mt. Meru. I offer to put their fees on our card if they have cash (the parks only take Visa or Mastercard). They don't. Too much for us to front them, we wish them luck and say goodbye.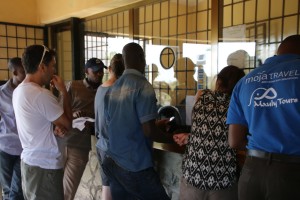 Our brand new Chase Sapphire card which has no foreign exchange fees works like a dream. Alex signs away $130.00 and we head to the car to venture on. And, we do. The road is rough and I say a silent prayer at every large clunk that hits the undercarriage. Please no flat tires or leaking fluids from the under side of the Rav. Our first stop, Rhino Overlook of the Ngorduto crater. Strange name as I am sure there have not been rhinos here for over a half-century. We get out of the car with snacks and ascend a rock staircase to the overlook – two round, green, concrete picnic tables and view into a crater three kilometers across with a swamp in the middle and tens of water buffalo. We learn from the sign that the water source is permanent, and so is the herd. We look through our binocs, take photos, snack. The tree to the right of the picnic table rustles. Again. Rustles. Baboons smelling our snacks, I surmise. After learning how to handle baboons from Joshua at the Ngorgoro Conservation Area, I hurl a rock and hit the tree trunk. "Hey, those aren't baboons and I think you might have just hit one," Alex says. The long white tail of a black and white Colobus monkey is now visible through the tree branches, so well camouflaged in the speckled light of the leaf shadows. More ascend the tree trunk and spread out onto the branches. They aren't interested in our food. We sit and watch — mommies and babies, quiet and only a few feet away. And we are not in a vehicle, delighted to be one with nature.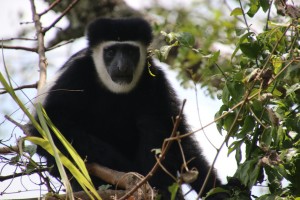 We drive toward Momella Lakes, Big and Small, and stop and get out of the car at another overlook. We are high above the lakebed below. We are facing directly at Mt. Kiliminjaro but it is hidden by clouds today. We scan with our binocs. Those are pink flamingoes way over there on Lake Rishatoni. Our indecision about doing the lake loop just fell by the wayside. We saw millions, and I mean millions, of pink flamingoes through our binocs at Lake Manyara (see photos on www.awritersspace.com/gallery) but they were miles away. Here they are in all their pinkness just on the far side of the lake loop. And, they are even more spectacular when we get up close. Like when they land, they run on the water. "They're running on the water, they're running on the water," we yell to each other with binocs glued to our eye sockets. And when they take off from the water, they run on the water again. Magnificent. Pink in nature.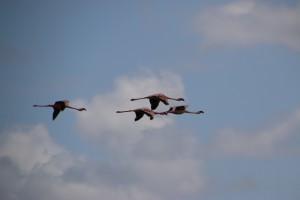 After many, many minutes and pictures and oohs and ahhs, we head to Momella gate where we believe that we can exit the park and return whence came via a different and shorter route. We consult our Tanzania map now to review the routes outside of the park. Seems doable. We exit the gate and the ranger firmly indicates that to return to Arusha we must go left. We believe that we are to turn right but there is no right turn, so we go left. We drive and drive and drive on the dirt road at times traffic coming our way at excessive speeds, scaring us but reconfirming that we are on a main road. We laugh, "If someone asked us right now, do you know where you are? The answer, no." But we are all okay with this. Our first self-safari we had to get lost, right? About thirty minutes into our lost-ness, I see water buffalo and zebra to my left. We can't be out of the park. These animals would have been dinner for someone if we were. I take out the park map again. Ah, we have come directly back to where we started via a different road, having never left the park at Momella gate. Apparently, there is no actual exit at Momella gate. Why it is called a "gate," I may never know. Relieved, we giggle and turn up the music. Hand our paper work over to the ranger at Ngordoto Gate and say goodbye for now to Arusha National Park. Just in time for a swim at Rivertrees!
More about the drive home through Arusha in the dark another time J